Na'Scent Odor Eliminator – The Ultimate Solution for Ostomy Odor Control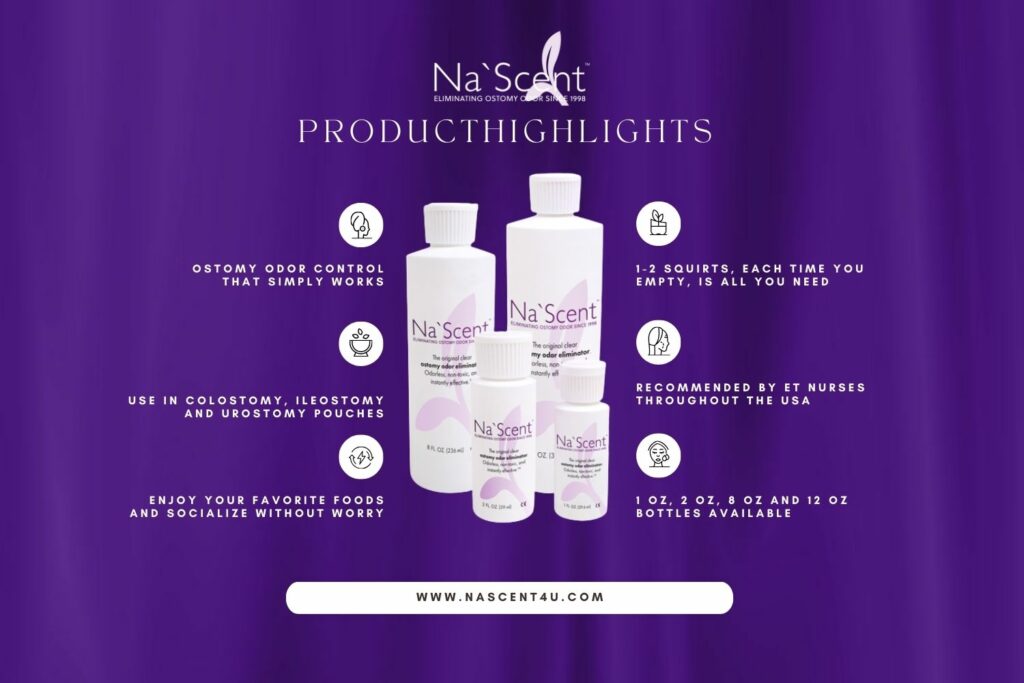 Are you tired of dealing with the discomfort and embarrassment of ostomy odor? Look no further! Na'Scent Odor Eliminator, proudly brought to you by NB Product Inc, is the answer you've been searching for.
Ostomy Odor Control that SIMPLY WORKS
We understand the challenges that come with ostomy care, and that's why we've designed Na'Scent – a product that simply works. Say goodbye to worries about ostomy odor and hello to a fresh, confident you.
Versatile Use in Colostomy, Ileostomy, and Urostomy Pouches
No matter the type of ostomy you have, Na'Scent Odor Eliminator is compatible with colostomy, ileostomy, and urostomy pouches. It's the all-in-one solution you've been waiting for.
Enjoy Your Favorite Foods and Socialize Without Worry
Tired of avoiding certain foods or social gatherings due to ostomy odor concerns? With Na'Scent, you can reclaim your freedom. Enjoy your favorite foods and socialize without the fear of unwanted odors.
Effortless Application: 1-2 Squirts is All You Need
Na'Scent is incredibly easy to use. Just one to two squirts each time you empty your pouch is all it takes to neutralize odors instantly. No fuss, no mess—just effective odor control.
Recommended by ET Nurses Throughout the USA
Trust is essential when it comes to your ostomy care. Na'Scent Odor Eliminator is recommended by Enterostomal Therapy (ET) Nurses across the USA. Their endorsement speaks volumes about the product's reliability and effectiveness.
Multiple Sizes Available
We understand that every ostomate's needs are unique. That's why Na'Scent Odor Eliminator comes in various sizes to suit your preferences and lifestyle. Choose from 1 oz, 2 oz, 8 oz, and 12 oz bottles.
Proudly 100% Made in the USA
Quality matters to us. Na'Scent Odor Eliminator is proudly 100% made in the USA, ensuring that you receive a product of the highest standards.
Don't let ostomy odor hold you back any longer. Experience the confidence and freedom that Na'Scent Odor Eliminator provides. Say hello to a life free from odor worries.
Order your Na'Scent Odor Eliminator today and embrace a fresh, odor-free tomorrow. Visit our website to learn more: [Insert Website Link]
NB Product Inc – Making Ostomy Care Better, One Squirt at a Time!