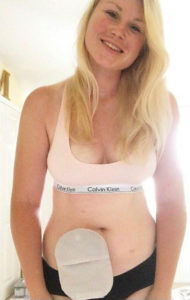 Hello! I was diagnosed with crohns colitis at the age of 11 and managed with medication until 16. After this I had 10 years(!) med free which was amazing! When I fell pregnant at 26 everything changed and my body went in to melt down. I ended up being admitted to hospital so many times during the pregnancy due to not being able to control my flare up. I started biologics, steroids, IV steroids and nothing would keep me well. When I was six months postpartum I'm I ended up having a subtotal colectomy and it has been the best decision EVER! I can ride my horse, walk the dog, take my little one to the park without worry! I love my stoma ❤️
Thank you Gem for sharing your inspirational story! You can follow Gem on her journey @ileostomy.gem. 
If you have an inspirational story that you would like us to highlight, please send it to us via message or via our website, where we have an inspirational story section.